Russia's invasion of Ukraine isn't an excuse to mine more British coal
The invasion by Russia of Ukraine is unjust and unjustifiable. It's logical for other governments to try to cut off the money for the Russian regime, by stopping buying Russian products including coal. The UK government has announced that it will stop buying Russian coal and oil by the end of this year and Russian gas "as soon as possible thereafter". The European Union's timetable is faster – no Russian coal to be bought after mid August 2022. Prior to this conflict Russia supplied around 40% of the coal consumed in European power stations and steel works.
Several years ago West Cumbria Mining Ltd, backed by an Australian company, EMR Capital, applied to extract coal from a new underground coking coal mine under the sea by Whitehaven, Cumbria. After a legal challenge the company is seeking to extract 2.78 million tonnes of coal a year until 2049. The Secretary for State for Housing Communities and Local Government said that the UK government would decide whether this application should be allowed to go ahead which lead to a planning inquiry in September 2021. The Planning Inspector has now written his report and made his recommendation on whether or not to stop this application to the now Secretary of State, Michael Gove. The Inspectors report will be made public when Gove announces his decision.
Gove's department has said that a decision on this application will be given on or before the 17th August 2022 (originally 7th July 2022).
West Cumbrian Mining Ltd (WCM), the company behind the application say that if this coal were extracted 83% of the coal would be sold abroad. Only 13% of this coal is expected to be used by UK steelworks (it is coking coal, a purer coal than that normally used in power stations). On the company's website and at the planning hearing WCM focussed on extracting coal in Cumbria and displacing coal imported to the UK from the USA, not Russia.
There are now some calls from long term proponents of the mine such as Mike Starkie, the Conservative mayor of Copeland, the constituency that includes Whitehaven, to approve this application on the basis of the invasion. Others have suggest allowing the extension application at Abepergwm in order to stop the UK's use of Russian coal. However no-one who previously thought coal at either site should stay in the ground has been convinced by this argument. The rational is misleading and counterproductive as shown in this brilliant article by Ukrainian climate activist Svitlana Romanko.
Prominent economist, Dr Paul Ekins, Professor of Resources and Environmental Policy at University College London says that, "There is no evidence to suggest that coal from the new mine would result in reductions in coal extracted from mines overseas. Basic economic theory suggests that ... an increase in the supply of a commodity such as coking coal will reduce the price of the commodity, leading to increased demand, and therefore increased emissions. This is a normal feature of economic markets".
Comparably increasing coal production in the UK won't impact whether or not coal is mined in Russia. There are several countries still buying large amounts of Russian coal. However, decarbonisation of the two primary steel producers – Port Talbot Steel works and Scunthorpe steelworks - will reduce coal demand significantly and reduce emissions, while keeping most steel workers in their jobs.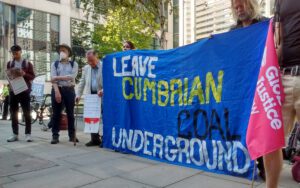 Additionally and crucially, the British Steel industry isn't behind the Whitehaven proposal either:
Chris McDonald, chief executive of the Materials Processing Institute and chair of the UK Metals Council said, "I think it's important to be clear that even if this mine opened tomorrow, it would not displace a single tonne of Russian coking coal from the UK – and I can say that with confidence". Tata Steel already does not use any Russian coking coal. British Steel have said they can't use the coal from Cumbria because the sulphur levels are too high. So there's no possibility that a new mine can meaningfully displace any Russian imports.
While the end of Russian coal imports to the UK and Europe is something Coal Action Network and others have been campaigning for, we grieve for the way in which it has come about.
While the UK government may wish to hide its bad decision making behind world events, justifying a new coal mine because of Russia's invasion of Ukraine doesn't add up. COP26 agreements need to be honoured and coal at Whitehaven needs to stay where it is – underground.